To say its the middle of winter, snow on the ground and minus temperatures I'm having a half decent start to the year really.
Today I headed for a small river that I have blanked on many times in the past as its becoming a really tough venue, the problem is the conditions. The only way to find out if its fishable is to go and have a look, more often than not you can find it in flood and coloured despite most other rivers being in good nick. Today was one of those days where I was hoping it would have reasonable visibility going on the fact that most other rivers where looking good. I arrived to find the river quite high and very coloured, not very promising conditions at all for lures.
With the water being so high and the temperatures being so low the fish would be sat hard on the bottom, the only way I was going to raise a fish was to fish as low as i could while not catching bottom as this would only result in the hooks being fouled with weed and debris. I didn't think I'd have much chance but thought I'd give it a go as I really wanted a photo with snow on the ground.
I fished for awhile and thought the best bet would be a spinnerbait in the conditions so clipped on a savagear da bush spinner bait.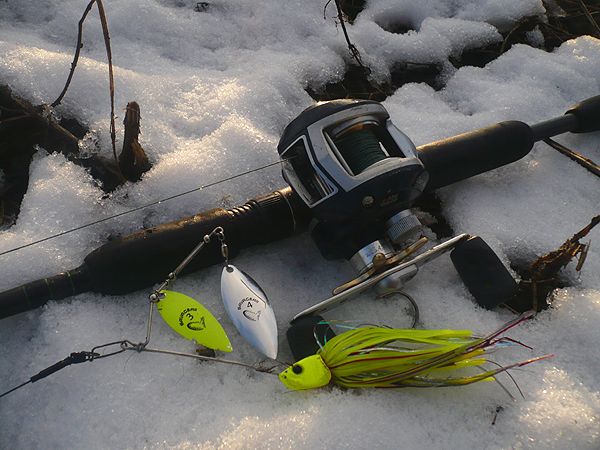 The lure choice proved a good one in the end as a fish showed an interest and gave me the opportunity to get a photo in the snow! It was a really nice fish with a very light colouration.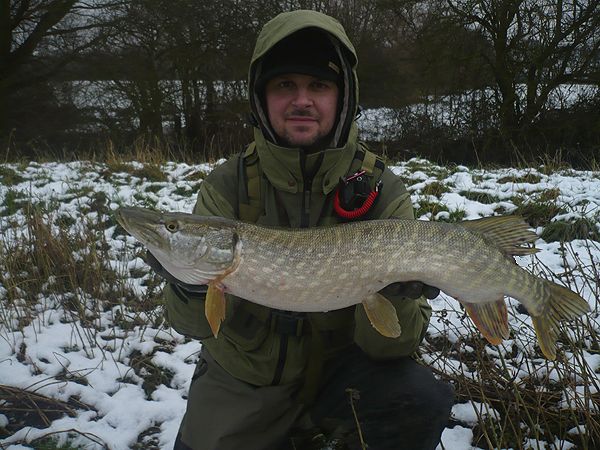 That was the end of the action as i couldn't tempt anything else, and again I went home happy to have caught in the most unlikely of conditions which just goes to show... you always have a chance!